Leaving Your Dog Home Alone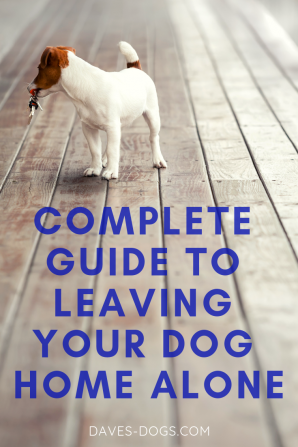 Leaving your dog home alone for the first time can be an extremely stressful time. Not just for the dog, but also for you as the owner. Having the right equipment and knowing how to use it is crucial to ensuring it will be a calm and uneventful process. If this is your first dog, you may want to read this article I wrote about 6 Things You Must Know Before Taking Your New Dog Home.
Confining Your Dog When Home Alone
This usually amounts to confing your dog to a crate, which can either be an easy process or a terrible experience for our dogs. Believe it or not, some dogs experience such heavy separation anxiety, they've injured themselves extensively trying to bite at the bars of their 'metal prison'. While actual injury is extreme, many dogs will whine loudly while shredding any fabric lining their crates to confetti, giving way to the hard metal beneath.
Crate Training the Right Way
Crate training is an easy process if done right, though it will take time and patience. Understand, you can't simply jump into crating your dog for several hours at a time (for example, a nine hour work day) and expect him to remain calm! This is a slow and steady process you both need to work up to.
Step One: Line the bottom of your crate with soft, comfortable fabric, while leaving the sides uncovered. Start small, allowing your dog to investigate, walking in, out and around the crate. Encourage your dog to enter the crate, using plenty of praise!
You can feed your dog/puppy in their crates, helping build familiarity.
Step Two: You can start closing your pup in their crate for short durations now. At first, try to limit this to only a few minutes at a time while you are in the room with them. After multiple short durations (ex. 5 minutes, 5 minutes, 10 minutes, etc.) you can begin increasing the crafting periods.
Your puppy or adult dog is almost certainly going to whine and cry at first. Simply ignore this, acting like everything is normal and there is nothing to worry about. As long as you show your dog you will return every time without fail, and there is no need to worry, the anxiety will lessen.
Alternate Suggestions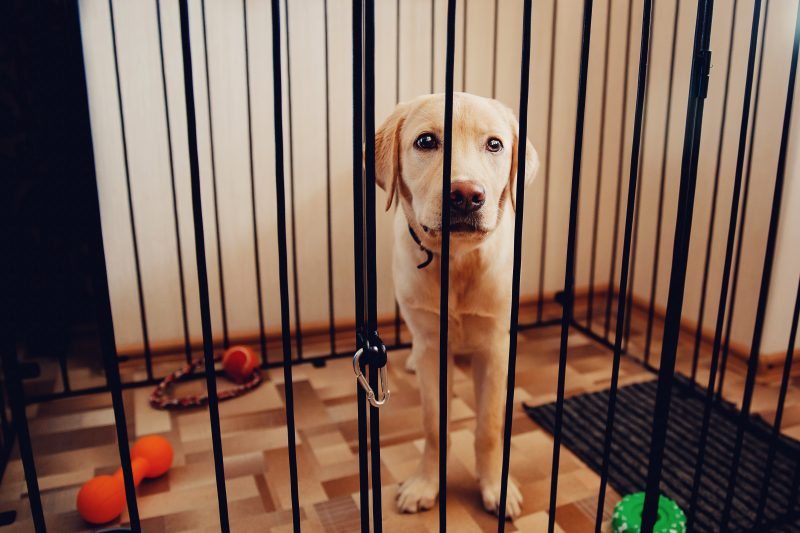 In an ideal situation, we would be able to stay at home all day, right there with our dogs. This would make potty training a puppy much easier, and crate training would be a breeze when we can slowly increase time periods over several days or 1-2 weeks.
Unfortunately, the majority of dog owners have working lives revolving around the regular 8-9 hour work day. Even if you begin training Friday evening after work, that only leaves three days until you must immerse your dog in hours of crated isolation. Beginning that Friday and gradually working throughout the weekend still may not seem like enough. The following suggestions will help.
1. Use a Crate and Fenced Off Area
If you have sufficient space and a dog pen or fencing, you could consider using a crate in conjunction with fencing off a portion of the house. Cleaning will be much easier if the dog pen is on a hard surface like tiles or concrete. Leave the door to the crate open and place dog pee mats in the fenced area for the dog to use while you are out.
2. Check During Your Lunch Break
If you check on your dog every day during lunch, that cuts 8-9 hours of isolation down to 4-5. Young puppies won't be able to hold their bladder for this long, most older puppies and adults will. This also means you only need to get your dog to become comfortable with 4-5 hours, and not a full day.
3. Ask Neighbors, Roommates, Family Members or Friends for Help
Whereas you may have commitments that keep you out all day long, you probably know someone else who can help. Many people are enthusiastic dog lovers and would do this for free, but a few dollars a day isn't much to ask for many people with full time jobs. Make sure the person helping is trustworthy and responsible!
4. Allow Your Dog to Roam the House
Simply not crating your dog is another option, but you should feel comfortable your pup won't become anxious or cause damage while you are gone. Many dogs are completely fine home alone. Though this is an option, the crate is probably the safest place for your dog if he is prone to anxiety.
Small/young puppies need to be crated while you are gone, for safety reasons if nothing else. Unless you completely puppy-proof your home/room, you may in the very least come home to chewed electrical cords, pens, furniture or even walls! Cords obviously pose a dangerous problem, and anything small presents a huge choking hazard.
What is Separation Anxiety?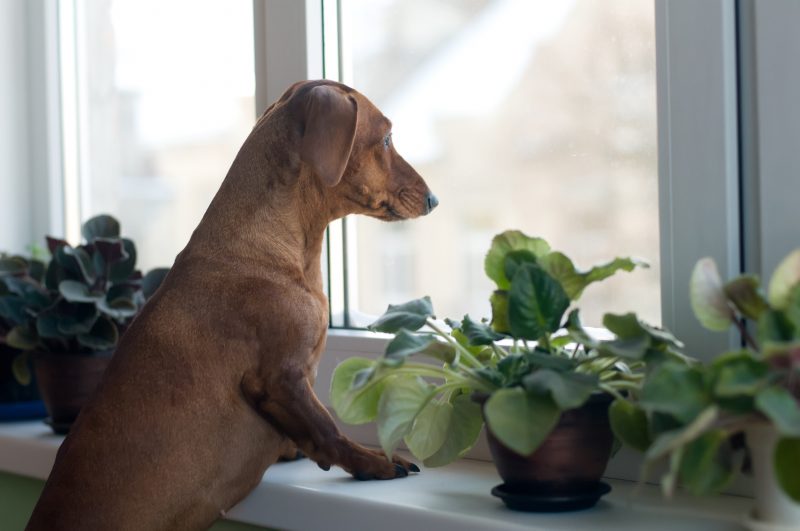 Before losing your temper, look at this from their perspective. Unless you train them, a dog isn't going to understand why he is being caged, or why you are leaving. Are you angry with them? Will you ever come back to them? Will you still be angry when and if you return? How will they ever find food or survive at all if they can't get out of this prison?
In an attempt to 'escape' to their owners, dogs will sometimes try and dig or claw at the home entrance- sometimes causing a lot of damage.
Separation anxiety is 'usually' the reason why a dog owner might return to torn pillows, a scratched up door, or other extreme household damage. If that owner happens to become angry with their pet for something that may have happened hours ago (which they often do), the dog won't understand and the separation anxiety will only build.
What Not to Do
Usually curing a case of separation anxiety is often only a matter of time, knowledge and patience, dog owners sometimes do things they think may help their lonely dog or improve the situation, with only the best intentions, but actually make matters worse.
Don't Punish Your Dog. Dogs can sometimes cause a lot of potentially expensive damage while owners are out. Of course, it is only human nature to become upset when arriving home to a mess. Most owners naturally think dogs are like children and will understand the punishments they receive.
The truth is, dogs very rarely understand these situations like human children would, and don't rationalize like people do. They are more likely to think something in the outside environment made their owners upset, only enforcing anxious feelings the next time the owner leaves.
Act Naturaly. Don't 'Baby' your dog. I know this might sound harsh, but excess emotion before you leave will in the very least tell your dog you are about to leave him alone, but likely give him the feeling something is wrong. The best thing you can do is act completely normal, like nothing unusual is happening at all, and everything is as it should be.
Consider Veterinarian Prescribed Medication
Just like a human doctor, veterinarians will often recommend mood-altering prescription medications for dogs suffering from disorders like depression or anxiety. Whereas medications might seem harsh at first, they can be much better alternatives for a depressed dog, or one so anxious he is prone to injuring himself. Training should always be your first option, but don't discount medication for those dogs that really do need it.
What Your Dog Needs When Left Home Alone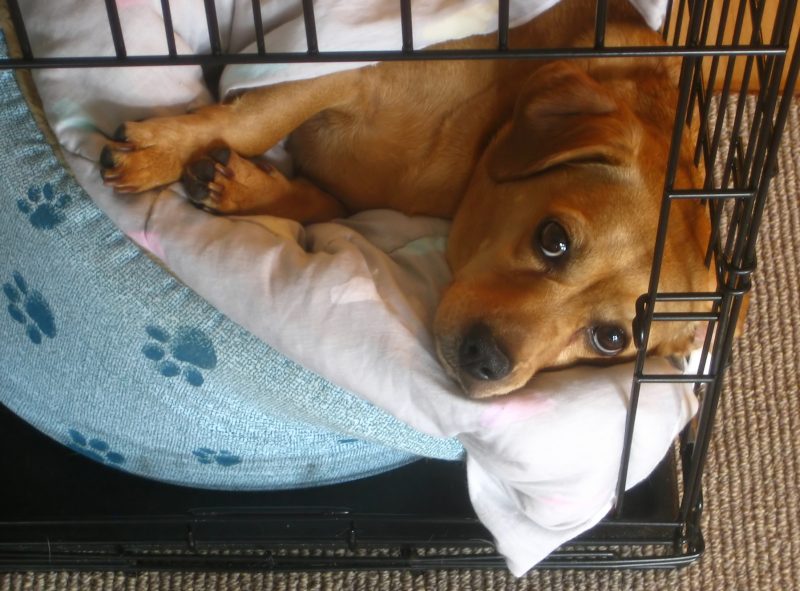 You most likely won't need everything on this list. Knowing what could be used and the options available to you will assist you to make a decision on what is required based on your personal situation.
Dog Crate
When selecting a dog crate, you need to ensure it's the right size for your dog. If it's too big or small, then it won't be practical or comfortable for your pooch. The crate should be just big enough for your dog to lay down, get up and turn around.
Crates which have an internal divider allow you to section off a portion of the crate to assist in potty training. This also allows them to grow without the need to buy another crate soon after.
Dog Pen
The size of your dog pen will be dictated by the space you have available in your house and how big your dog is. They come in a variety of sizes and materials including wood and rust-resistant wire/metal. Most dog pens will have the flexibilty to configure them in multiple shapes.
Food/Water
Of course, food and water are the basic necessities. You may only want to feed your dog when you are home, to avoid 'free feeding' (some dogs will eat too much, and gain weight), but water should always be available. A sturdy water bowl is important to ensure they don't accidentally knock it over.
Dog Pee Pads
Your first concern is probably potty breaks. Try using the month/hour principle; most puppies can hold their bladders for one hour per month of age (this rule obviously doesn't work well with adults). For example, your three month old puppy can probably wait three hours before he needs to be let out.
If you are at work during the day, you can train your pup to use potty/pee pads. Remember, your dog isn't going to want to relieve himself in his crate, but will if he has to; try not to leave a puppy crated for several hours without an outside break if you can help it. Allowing your dog to continue to eliminate in the crate creates a habit, and defeats the purpose of using a crate for potty training.
Shelter
Shelter is mentioned because owners are sometimes tempted to leave their dogs outside. Unless they have a dog house to take shelter in, this can be dangerous if the weather turns sour, if your dog is a digger or escape artist, or worst of all- if the temperature becomes very cold.
How to Occupy Your Dog While You're Away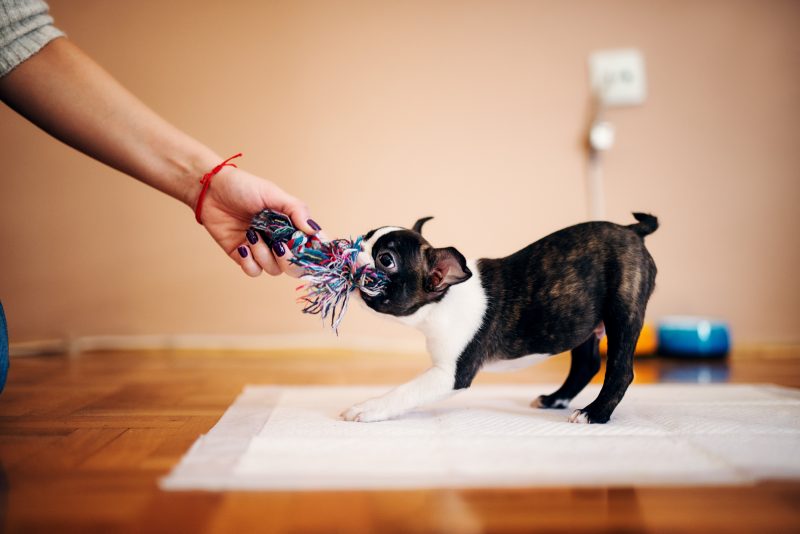 You're probably wondering how in the world to keep your dog occupied while you're gone for those long hours during the day. Don't worry; I have plenty of great ideas!
Normalcy Limits Anxiety
If your dog suffers from anxiety while you are gone, try keeping things at the home as 'normal' as you can. For example, if the television is usually on all day, go ahead and keep it on. If the TV is almost never on when you're home, don't leave it on while you are gone.
Special Programming
You can even find programming specifically designed to stimulate your dog mentally while you are away. In fact, there is at least one specific station designed for this, called 'Dog TV'. They have a website you can visit with a short video explaining how this works, and offer a free trial for those who want to try it out. If not, there is always YouTube!
Leave Toys in the Crate
Dog toys left with your dog when they are left alone should be the ones designed for chewing and not plush toys or toys that your dog can destroy. Plush toys present a choking hazard if left with a dog unsupervised.
There is a wide range of sturdy dog chew toys to choose from, and durability varies. Make sure you choose ones suitable for your dog and more importantly, one that they find entertaining.
Frozen Peanut Butter Kong
Everyone has heard of Kongs , those rubber 'honey bee' shaped chew toys that are basically indestructible. Though they sell specific 'Kong' filling at pet stores, peanut butter is both much cheaper and will last longer. By freezing the peanut butter filled Kong overnight, you'll have a long lasting treat in the morning!
Scavenger Hunt
If your dog doesn't suffer from anxiety and is fine to roam the house while you are away, creating a 'scavenger hunt' is a fantastic idea! Make your dog use his natural hunting & tracking senses, stimulating him mentally at the same time. By scattering a few handfuls of kibble across the house, or treats, you can make your dog 'hunt' for his meals. You can also purchase special puzzle toys from many pet stores.
Doggy Puzzles
This leads us to the next option- doggy puzzles! These are great ways to both occupy time and stimulate your dog's senses. Believe it or not, puzzles are becoming more and more intricate for dogs these days!
In Conclusion: Leaving Your Dog Home Alone Doesn't Have to be a Mission!
Sure, keeping a dog while you are away may seem a daunting responsibility, but don't let it deter you from keeping a dog! With a little bit of knowledge and the right equipment, you can set yourself up for pet ownership in a safe and fulfilling manner.
Did you find this article helpful? Feel free to share by using the super-easy buttons below!