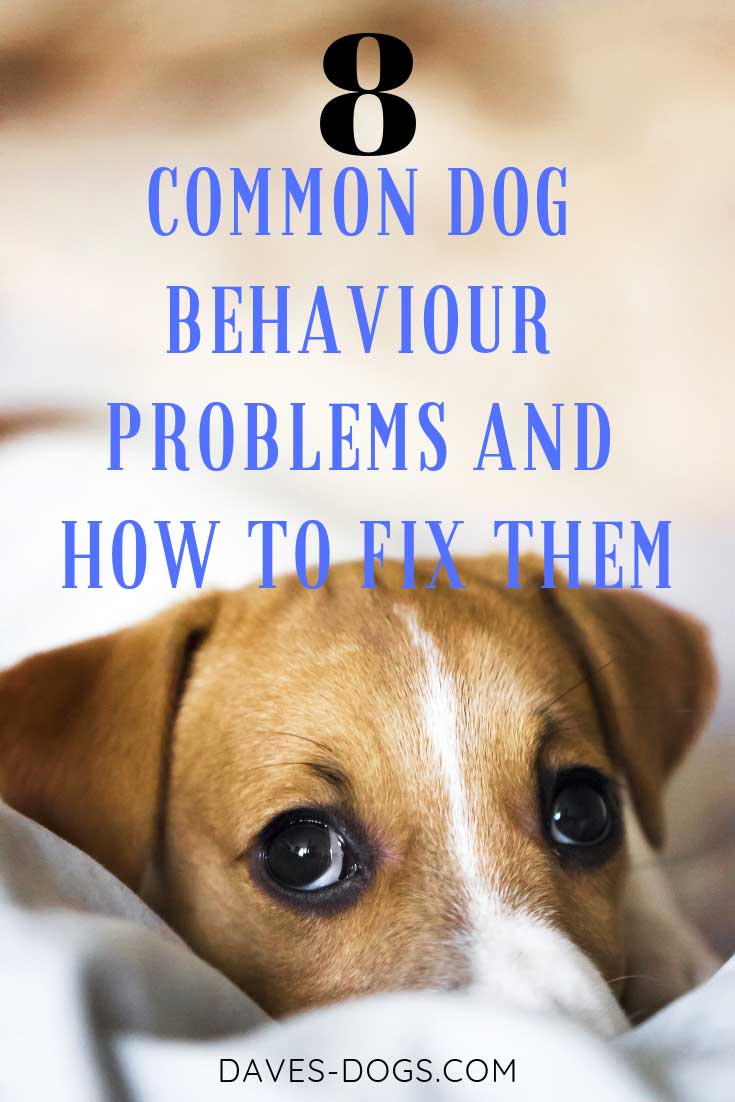 Can You Correct Your Dog Behaviour Problems?
If you are experiencing dog behaviour problems, it could be stopping you from taking your dog for walks down the street, to the park, or even out of the house. You may be in trouble with your neighbours because of a dog who just won't quit barking.
If your dog is misbehaving, it doesn't necessarily mean that they are a terrible dog. It could just be that you haven't shown your dog how to act in a specific situation.
Never fear, help is at hand, read on for the most common dog behaviour problems that people experience, and how you can fix them.
01

|

Dog Aggression
At first glance, there are countless reasons a dog may react aggressively to a given situation. Answering the question 'why is my dog aggressive' might yield a simple, common sense answer. The answer is often a simple one.
Is your dog feeling physically threatened?
Does your dog wish to be left alone, or are they trying to protect their (your) territory from possible outside threats (strangers)?
Is there an underlying medical problem, causing your dog pain or discomfort?
Did you (or the previous owner) bother to properly socialise your dog when they were a puppy, so he doesn't consider strangers possible threats to your or his well being?
Was your dog trained to respond aggressively by either you or a previous owner?
Is your breed genetically predisposed toward aggression? Keep in mind; this usually won't bear much of an actual impact at all if your dog has been well socialised.
Does your dog have anxiety problems, or become nervous when others approach?
Has your dog suffered a traumatic event, like being attacked by another dog, in the past? Dogs are capable of suffering from a kind of PTSD as well.
True, there are many possible causes listed here- and even then, these aren't all of them. Of course, each question here merely requires the owner to ask themselves 'why is this happening, or what is causing this'.
The truth is 'usually' well within human reasoning, and very rarely requires an animal behaviourist to answer. Once you have identified the cause of your dog's aggression, you can take steps to begin a training program to eliminate the problem.
Solution
Starting from a distance where your dog is calm, expose your pup to the stimulus that causes them to show aggression. As long as your dog pays no attention to the stimulus and remains calm, you can reward them. Slowly close the gap to the stimulus and continue to reward good behaviour. Move back a step if they start to get agitated or aggressive.
02

| 

Barking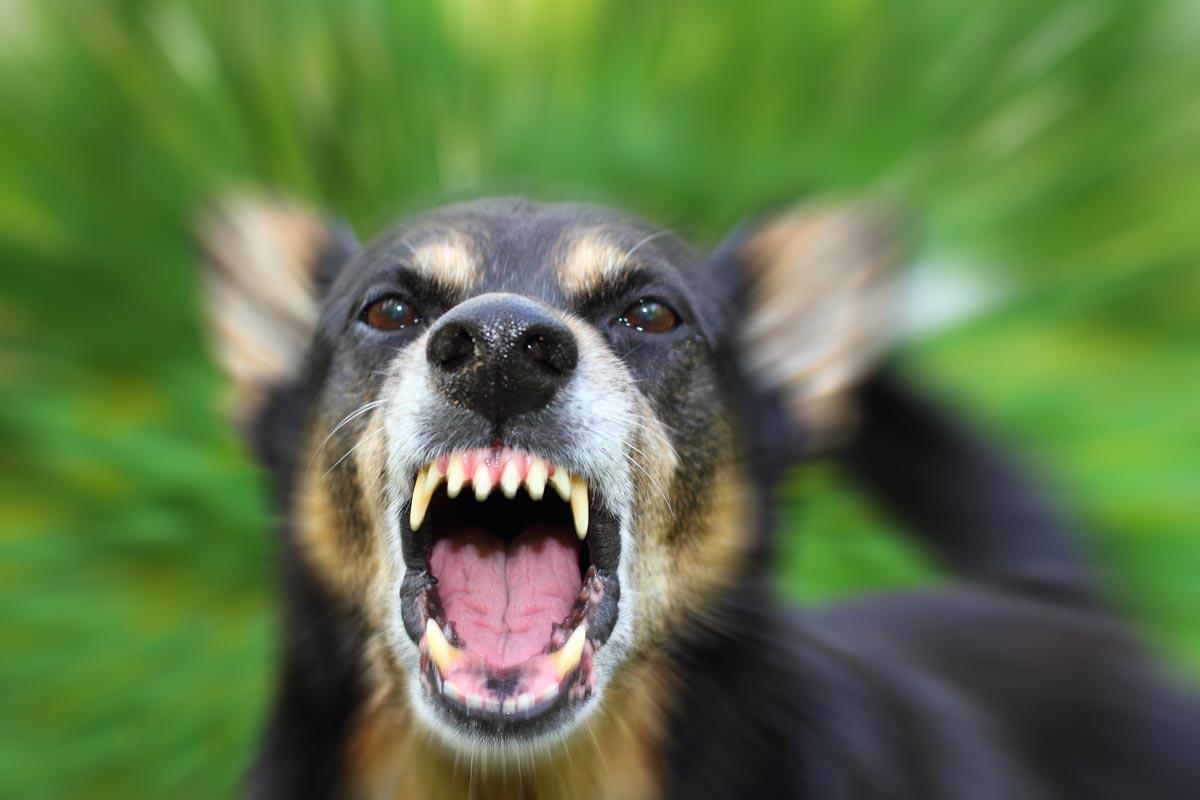 Barking is, in fact, a natural means of communication for dogs, just like whining, howling or growling. Your dog might bark for all kinds of reasons, not at all limited to aggression.
Is this a playful, excited bark?
Is your dog trying to warn of danger, a possible threat?
Is your dog just curious?
Is this a mother trying to discipline her young?
Depending on the situation, your dog's barking could indicate aggression, or fear 'stay away, I want to be left alone'. If you are observant, you will soon be able to discern meanings from the sound of your dog's bark.
Solution
Learn to control excessive barking by taking your dog's focus away from what is causing them to bark and rewarding them for calm behaviour. This will require a lot of patience and consistency. You could also consider training the "bark/quiet" command. Train your dog to bark on cue. Once you can command them to "bark", you can now train them to be "quiet".
Using this method will enable you to quiet your dog from barking if they have been startled by a noise outside or if something is particularly fun to bark at.
03

| 

Biting
Like anything else, the first step to stop your dog biting problem is to figure out why your dog is biting. Because dogs pick up/carry things with their mouths, not having hands like us, non-confrontational behaviours are sometimes confused for aggression. Also, you'll need to understand the reason for your dog's biting before you can effectively stop it.
Is your dog's biting playful, or an attempt at play?
Is your dog reacting to a harmful situation?
Is the biting more of a 'snapping', meant to ward off anyone who approaches?
Solution
Owners must show their puppies that mouthing and biting are not acceptable by teaching bite inhibition. The first step is to train your puppy to use his mouth softly. Allow him to mouth your hand a little, as long as it doesn't hurt.
If he bites too hard, give a high pitched yelp, and let your hand go limp. This should startle your dog and he should let go. If he doesn't stop, say "no biting" in a stern voice. Praise your dog when they stop mouthing you. Continue playing and repeat the process again. If they bite you more than 3 times within a ten minute period, then move away from playing for a couple of minutes. Your pup will soon learn to control how hard he bites.
Once your pup has learnt how to use his mouth gently, the next step is to begin cutting back on the number of times that he is allowed to bite.
You can do this by training the "leave it" command. You can use some treats for this. When your pup bites, hold the treat in front of his mouth, and when he releases the bite, give the "leave it" command praise your puppy and give a treat. You can now phase out biting altogether.
04

| 

Chewing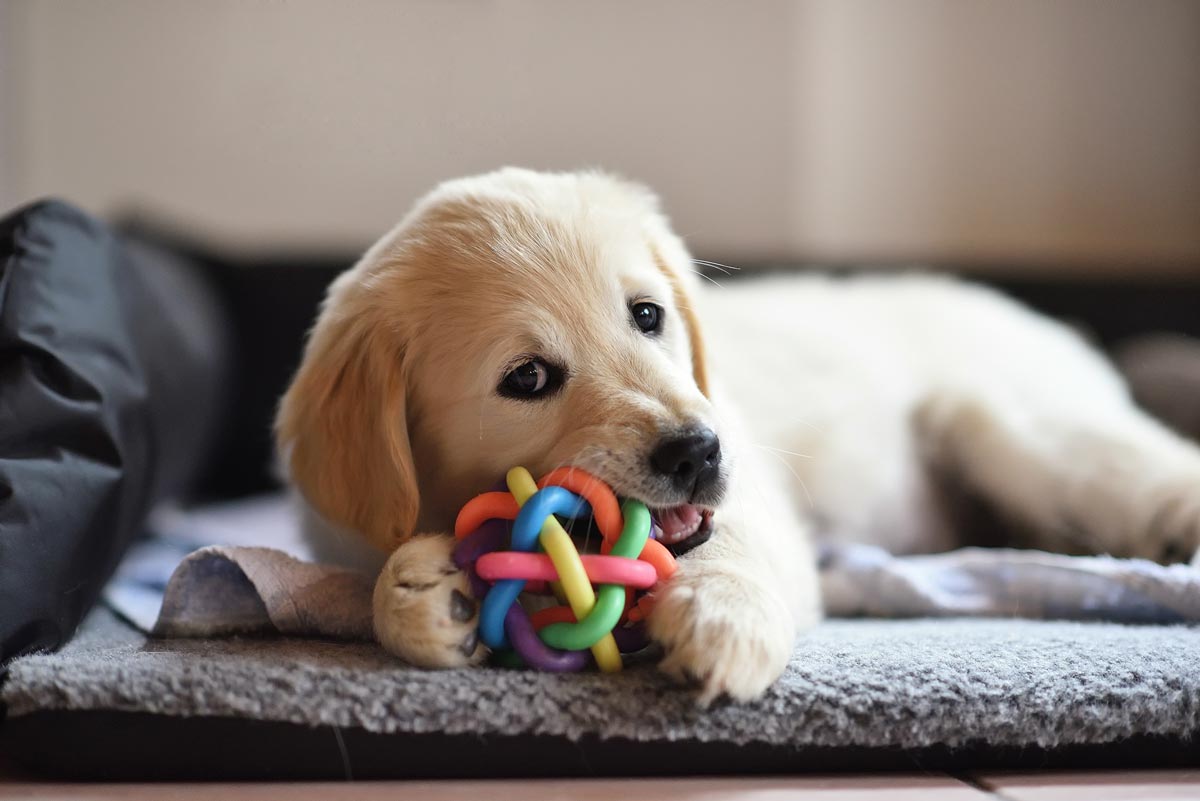 Before anything else, understand that dogs naturally pick up/handle things with their mouths like we would our hands because they don't have 'hands'. Chewing is a very natural behaviour, although sometimes discouraged by human owners. For example, a dog won't see any difference between the leg of a kitchen chair and a stick lying on the ground outside- unless you give him a reason to.
The mechanical action of chewing will help clean a dog's teeth
Dogs may chew things because they taste or smell good / they enjoy the odour.
Chewing is often meant as an outlet to focus tension or anxiety
Chewing can be a natural method of play
Solution
Encourage your dog to chew on the right things by providing them with plenty of chew toys. Keep your area tidy and remove the temptation when they are just starting out. Keep them in a crate or confined to a specific area where they can't chew the wrong items when you are not there to supervise them.
If you do catch your dog chewing the wrong item, give them the "leave" command and substitute the wrong thing with one of their toys.
05

| 

Compulsive Dog Behaviours
Though they may not quite suffer from the same obsessive-compulsive disorder humans do, dogs can show compulsive behaviours. Since OCD applies to thought, and we can't precisely know what a dog is thinking, these behaviours are called compulsive disorders. Some compulsive behaviours can include:
Repeated spinning
Tail chasing
Abnormally frequent mounting
Light chasing
Obsessive chewing
Sucking on toy or body parts
Solution
Although usually uncommon, some compulsive behaviours can be detrimental to the dog's physical health. Conflict, stress, and anxiety are generally the cause of these behaviours. The solution would be to treat the root or remove the cause of that frustration. For example, frequent yelling and verbal abuse among family members could cause excess stress, and lead to these compulsive behaviours, a way for the dog to 'vent' his frustration/anxiety.
Excessive digging could be an excess of energy. Ensuring that your dog is getting sufficient exercise can be the key to solving a lot of problems.
If left untreated, compulsive behaviours will often worsen with time. These once seldom behaviours can be triggered by even the mildly stressful events, even 'taking over' a dog's life, actually replacing sleeping and eating habits.
Some compulsive dog behaviours may require veterinarian intervention.
06

| 

Food Guarding
Does your dog go crazy when you approach his food bowl, growling and even snapping? What about his toys? Are you afraid one of your children might end up bitten? Food guarding might be a scary, even frightening reaction to a pet owner or parent of small children, who only want the best for their pet and mean no harm at all.
Many years ago (and today, depending on the area) wolves had to guard their kills against other predators or risk losing it and going hungry. Since these animals would often go for several days at a time without eating, this could easily be a matter of survival.
So these animals would either stand guard over it or bury it. Though not all dogs display this behaviour, resource guarding is a very instinctual, natural behaviour, stemming from those wild wolves countless years ago.
Solution
If you believe that your dog is likely to bite you, do not attempt this training on your own. Seek help from a professional behaviourist.
Thankfully, resource guarding, such as with food or toys, is easy to break with patience and positive, reward-based training methods! Teach your dog your approach isn't a threat but means only great, tasty things!
While your dog eats dry biscuits from his bowl, stand a couple of meters and say something like "what have you got there?" in a calm tone. Toss a treat that is tastier than what he already has onto the floor near his bowl.
Continue to toss treats and move a little closer with each training season until you can stand right next to your pup.
Once he pays no attention to you being right beside him, you can then start to touch his bowl while still tossing tasty treats. Continue slowly until you can eventually pick up his bowl.
Treating any sort of resource guarding can be a slow process, and you should be careful to not rush ahead at any stage.
07

| 

Jumping on Visitors, Strangers, & Friends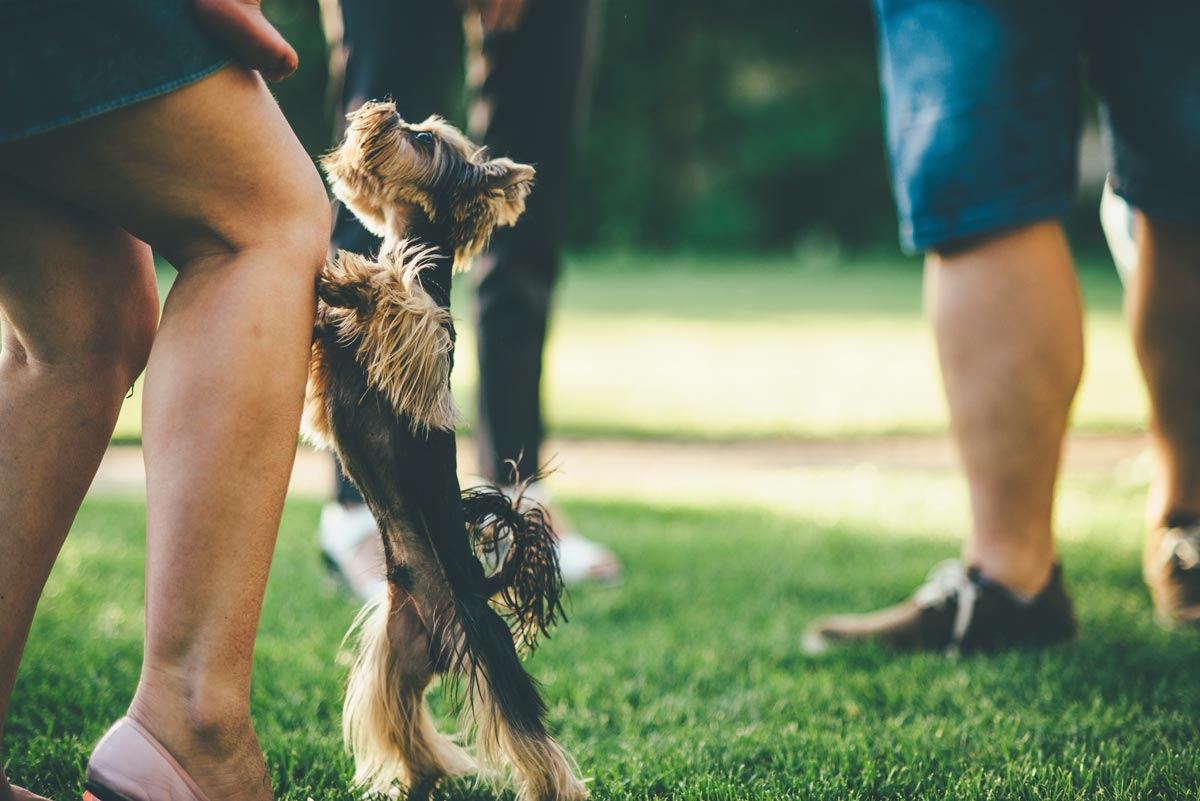 Many household pets automatically want to greet visitors by jumping up on them. They might even do this during play. Owners often want to discourage this behaviour, just the same.
It's important to understand a behaviour before trying to change it. Remember to ask yourself 'why is is my dog doing this, and what does he want'? Your answer is probably going to be the seeking of attention in some way. Maybe your pup wants to play with the visitor, greet him, or just let him know 'I am here, pay attention to me'.
Unfortunately, most visitors proceed to give the dog that attention by reacting. Most owners will either yell at their dogs to stop or bark some other order- again only reinforcing the behaviour by giving the dog what he wants, attention.
Solution
By far, the best method of training your dog to stop jumping is to just turn away from your dog and move away. Do not give any commands, make eye contact or touch your dog. When he is calm again and not jumping, reward him for his calm behaviour.
08

| 

Leash Pulling
Have you ever heard the term 'leash reactive'? Has your dog ever lunged ahead on walks, pulling you along? Almost every dog owner on the planet (at least those who walk their dogs) has dealt with some form of lead pulling at least once.
First, understand dogs naturally walk faster than us. It is 'unnatural', or unusual, for them to be asked to slow down to a human's walking pace. Even then, being constrained to a lead isn't entirely natural, not when a dog sees something he wants. Energetic dogs often feel the need to move quickly or jolt ahead, yanking the lead this way or that.
Then there are those that will react aggressively to other animals, sometimes even people, as they pass, yanking violently and doing all they can to get to that animal. This behaviour is called leash reactivity.
Leash pulling is very natural for almost any dog, but can be broken with time and patience!
Solution
Start with a long lead, 10 – 20 feet (not the retractable type). "How am I supposed to keep my dog beside me with that?" I hear you say. Well, guess what, the lead isn't there to hold your dog in position, it's just there to keep them in your proximity.
Holding onto the end of your long lead, move quickly around the yard with the lead dragging, any time that your dogs naturally comes into the correct position beside you, say "yes" and give them a treat. It may take a few times, but your dog will eventually learn that being right beside you on a loose lead is a great idea.
Get stricter with your criteria for when you reward your dog. Continue to do this until your pup can stay right beside you no matter which way you turn.
You are effectively teaching your dog to walk beside you without any pressure on the lead, and they have made all of the decisions to be in the correct position themselves.
Conclusion: Common Dog Behaviour Problems And How To Fix Them
For those who pay attention, a dog can say in a second what it would take a person much longer. In fact, for those who are attentive, it only takes a glance to know how any dog is feeling at any given time! There is a reason for every dog behaviour, every single thing a dog does, and understanding that reason is the first step to treating the dog behaviour.
Once you have determined what is causing the behaviour, you can then develop a training program to eliminate or reduce the problem.
Did you find this article helpful? Feel free to share by using the super-easy buttons below!